Football Coaches' Elite Course Athens
Game-changing daily workshops about coaching in football for team coaches and goalkeeper coaches.
The world of football is changing continuously, influencing your work as a football coach and how you can create the best learning climate for your team and each individual.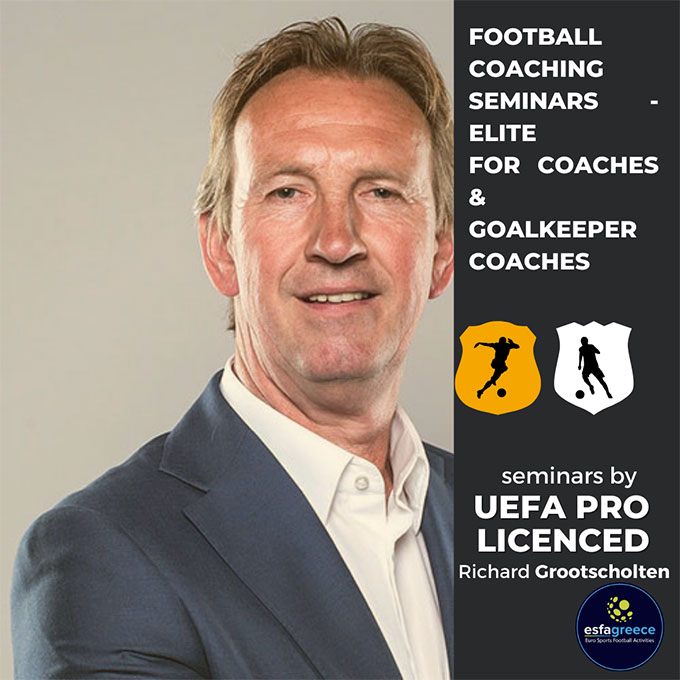 You, as a leader, must know how players see you.
You, as a coach, can help each player reach their highest level within the team.
This course will give you tools to analyze yourself and learn to be a better coach day by day.
Together, with around 25 coaches, we will work daily on your development as a coach.
The course has two parts:
1. In the morning, theoretically, coaches participate in workshops about topics like:
The roles and tasks of a coach
Your vision as a coach
Personal leadership
The image of talent recognition
The idea of talent development
Creation of an optimal learning climate
Training Principles for effective learning
The vision of PSV Eindhoven as a European Top Club
Gameplay from 1 vs. 1 to 11 vs. 11
2. In the afternoon, practical coach involvement in training sessions on the pitch.
The above relates to PSV Eindhoven's and the ESFA's coaches.
Richard Grootscholten is the leader of the course.
Richard is a UEFA Pro-licensed coach and instructor from the Netherlands. He is a high-expert professional with over 35 years of coaching experience working with all ages.
As a widely developed academy director and sports director, he worked at top clubs like Feyenoord Rotterdam, the Vancouver Whitecaps, and Legia Warsaw.
Also, as a coach and instructor, he spent many years working at the Dutch Football Association (KNVB) and has already spent many years with ESFA in Greece.